(RHEANNA O'NEIL BELLOMO, Cosmopolitan)
Warmer temps this month means it's time to start sipping spring- and summertime drinks like gimlets, margaritas, and maybe even Corona with lime. But you may want to put down your beer now that the famous Mexican brand just issued a recall on its bottles — for containing glass shards. Corona's voluntary recall includes its Corona Extra brew in 12-pack and 18-pack boxes of the 12-ounce clear bottles. The brand explained via press release that the recall is "very limited in scope," with 1 in every 5,000 bottles affected.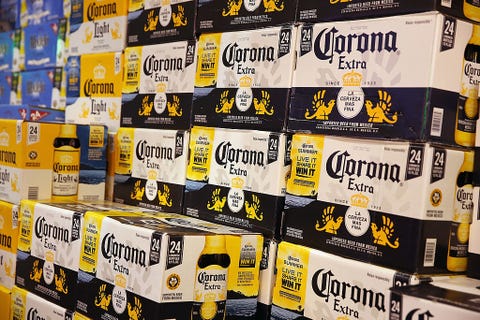 However, it might be best not to risk it, especially at your favorite bar or restaurant, which likely only purchases these bulk boxes of bottles. (Luckily, there are five other summery beers you can — and should — drink instead of Corona.)
To determine if your suds are affected, check the eight-digit production code printed on the neck of the bottle and side panels of the beer cartons. The full list of affected codes are available on the recall portion of Corona's site.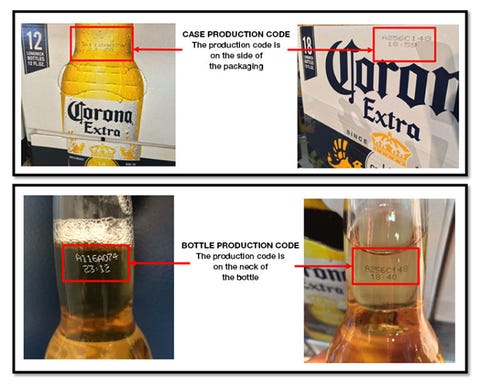 Surprisingly, this isn't the first time a production mishap has caused glass fragments to enter Corona bottles. Back in 2014, the brand had to issue a similar recall to avoid harm to customers from throwing back a few beach beers.
If you have a box of bottles with one of the corresponding production codes, don't drink the beer and throw it out instead. You can get a refund by calling the brand's consumer call center at (866) 204-9407. So far, no one has been injured from drinking Corona. That being said, if you do somehow become injured from drinking the beer, consult your doctor immediately and then contact Corona's consumer call center for further information and assistance.